The Random Number Generator has spoken and the random winner is comment #70, Dawn from Vanilla Sugar.


Oh my gosh my dumb computer crashed 2 years ago and I lost all my settings, bookmarks, addresses, etc.... Thankfully I did back up and didn't lose any work. I really think computers are only meant to last 3-5 years as so many people lose their computer after this about of time.
Congrats on 100th post. Wild huh? And I do remember those skillet smashed taters, vividly...I fell in love with them.
Dawn will be receiving a copy of Ina Garten's brand-spankin' new book Back to Basics.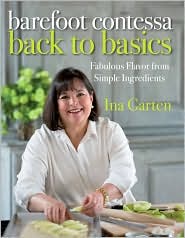 Congratulations, Dawn! All I need is your address so I can get the book out to you. :)
Stay tuned for more giveaways, because there are more coming!